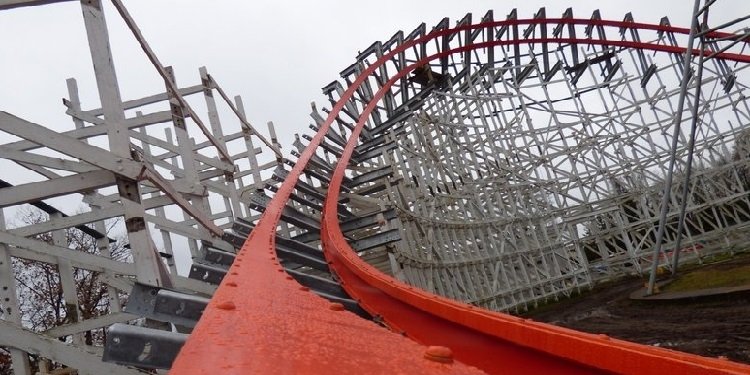 It looks like I'll be traipsing on up again to Agawam, Massachusetts this summer. Last year was my first time visiting
Six Flags New England
and I found it to be one helluva park, With such awesome coasters such as the mind-blowing
Goliath
to the twisting, turning
Mind Eraser
and the absolutely thrilling
Bizarro
, this park's got enough steel monsters to whet any coaster lover's appetite, and now they've added a new thrilling wonder.
Wicked Cyclone is a brand new spin on an old favorite. In June of 1983, the Riverside Cyclone, a woodie inspired by Coney Island's famous landmark, opened at what was then known as Riverside Amusement Park. The ride operated for more than thirty years, serving over 15 million riders, and closed for good last June, and in the months since, the ride has undergone a major transformation and this weekend the new coaster opens to the public.
Wicked Cyclone
is a hybrid coaster, mixing steel track with wood construction. It is the first of its kind on the East Coast and it looks like a doozie. With 3,200 feet of track, this hybrid falls from 10 stories high and moves at speeds of up to 55 miles per hour, careening through two zero G rolls and a 200 degree stall as it makes its way through the track. Take a look below at the park's animated preview of the ride, and if you're in the vicinity of Six Flags New England this summer, you're gonna want to get there...