We are searchlights, we can see in the dark
We are rockets, pointed up at the stars
We are billions of beautiful hearts
And you sold us, down the river too far
This is why P!nk moves me! After a post in which I complained that she'd been absent for too long, I now make my repentance. I should have known better! From the very first time I ever listened to a whole album of hers, 2001's M!ssundaztood, I was moved by her music, and that only grew with each new record, Try This, I'm Not Dead, Funhouse, and the ultimate, the one that got me to make a silly video lip-syncing to her, The Truth About Love.
Yup, the master lyricist and overall uber-talent has done it again, perhaps even eclipsing (sorry, I couldn't help myself!) anything she's ever done in the past, and that's saying a lot. At a time when we all could use a clear head, without all of the bickering, name calling and such, she's given us this gift, this gem of a tune, and it's from all of our perspectives.
What about us?
What about all the times you said you had the answers?
What about us?
What about all the broken happy ever afters
What about us?
What about all the plans that ended in disasters?
What about love? What about trust?
What about us?
I've heard P!nk say in the past that she doesn't like to tell anyone the meaning behind her words, that she likes fans to garner their own significance from them, but this time there is no mistake. P!nk has gotten political before, back during the Bush years with the raw
Dear Mr. President,
with the Indigo Girls. That time, there was no doubt which side of the political spectrum she was speaking from. She performed the song during the
Funhouse Tour
in 2009, and when she did she said that she'd been booed while performing it in certain places. The partisan divide that's ripping this country apart today was already well into big-crack mode.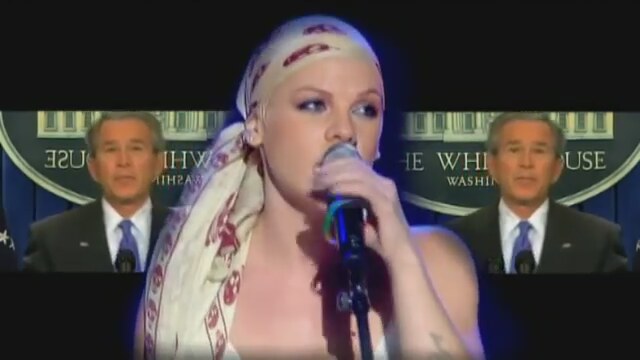 We are problems that want to be solved
We are children that need to be loved
We were willing, we came when you called
But then you fooled us, enough is enough
This time around, P!nk isn't singing from one side of the aisle, though it isn't hard to see from the video to the song that she's still writing from the same perspective. However, if we can all look beyond what we know to be her views, forget left or right or anywhere else, we can easily see that she speaks for all of us, and maybe if we listen closely, we will understand.
Back in January, Patrick Crowley opined in
Billboard Magazine
whether the singer would write a Dear Mr. President for Mr. Trump. She'd been openly vocal about her displeasure with the newly elected President, but at the time there was no hit of any song:
"To anyone reading this: if you think this is a time for misogynistic jokes, or for laughing about voting in a person that doesn't believe in climate change, or humanity. To any of you closet racists, homophobes, sexists..... please block me. Please unfollow me. We do not respect each other. You do not have my respect, and I obviously don't have yours. We are not friends. To everyone else, we shall overcome. Stay on the path of love and tolerance. Hug your kids. Teach them about diversity and about fighting for others, and sticking up for themselves. I will do my part."
Yes, there is no doubt to how P!nk looks at our President, and things have gotten worse in the seven months since she said that. But with this song, she's not pointing a direct and angry finger at Trump. The they she speaks of includes virtually anyone who's said they had the answers, made broken promises for our happy ever afters and made plans that ended in disaster. Sure, that includes our current Commander in Chief, but also past ones, as well as congressmen, senators, Cabinet members, and virtually anyone else who has an R or a D next to their name.
What about us?
What about all the times you said you had the answers?
What about us?
What about all the broken happy ever afters?
What about us?
What about all the plans that ended in disasters?
What about love? What about trust?
What about us?
Yeah, what about us? Politicians from all sides have been working for a long long time to create this great divide that is scarily coming to a head, and yet they never do anything really that makes our lives better, fixes our problems, or shows their loyalty to us, the ones who always come calling. All they've done is point fingers, ridicule, and line their own pockets off the true holders of power, those with money. And we all suffer the consequences.
Unfortunately, she seems to hearken something I've been afraid of for a very long time now, something terrifying that I alluded to in my last opinion
post
:
Sticks and stones they may break these bonesBut then I'll be ready, are you ready?
It's the start of us, we cannot come on
Are you ready? I'll be ready
I don't want control, I want to let go
Are you ready? I'll be ready
And now it's time to let them know
Yes, I am with her. I am ready! There are a great many of us in this country who recognize the ominous state that this Administration is leading us towards, and I hope to God that it never comes to pass, but if it does, yes, I'll be ready. I would hope that many will take a hard listen to the words of this song and will recognize that the two sides in this struggle are not necessarily what we think they are. Though we may think differently, we are all a part of those billions of beautiful hearts and we all just want to be happy. We need to recognize this and let them know. Take a listen and a look at this cleverly written piece and accompanying video and you'll realize that P!nk is such a gift. There's a reason why this song has resonated with so many, but it needs to resonate even more!