So far this
Roller Coaster Road Trip 2014
has been awesome, and even though there's lots to tell, including zip-lining in a cave, great Louisville neighborhoods, Brazilian food, Kentucky Kingdom and the like, there was one event yesterday that epitomized this trip, and my love for roller coasters. You see, four years ago, Rich, Eddie and I visited King's Park in Mason, Ohio for the first time. This amusement park was one that I'd always wanted to visit, mainly because it is home to
The Beast
, the world's longest wooden roller coaster and one which I salivated over the first time I ever saw it on a video.
Well in 2010, my dream to ride
The Beast
finally came true and from what I remembered, it was all the great fun I had expected it to be. We rode the monster several times that day, including the last ride of the night (an entirely radical experience!). After that trip, I'd never envisioned myself returning to King's Island, but when this trip came up and I saw that Kings Island, is not too far from Louisville, and so I included it in our itinerary, much to the agreement of Rich and Eddie.
So yesterday was our return to Kings Island and once again
The Beast
(celebrating 35 years in 2014) reminded exactly why I love roller coasters. It's not the newest or the baddest roller coaster in town (see the new
Banshee
or
Diamondback
), nor is it the tallest (110 feet) or the fastest (65 mph), but it certainly packs a punch. This ride is the ultimate replica of a real runaway mine train, taking off at breakneck speeds through thick, wooded terrain and navigating sharp twists and turns (and tunnels!) as it flies through its circuit.
The coaster has not one, but two lift hills, each with a different feel. The train begins its ascent up the first hill slowly, giving riders a sense of relaxation that the impending drop is still some time away, but somewhere towards the middle of that lift hill, the train picks up speed, ultimately hurtling riders down a 140 foot drop and on into the first part of its wicked wicked ride. Only a few minutes (a precious eternity for any roller coaster!) into the train's wild ride through the forest comes the second lift hill, and my favorite moment on any coaster anywhere.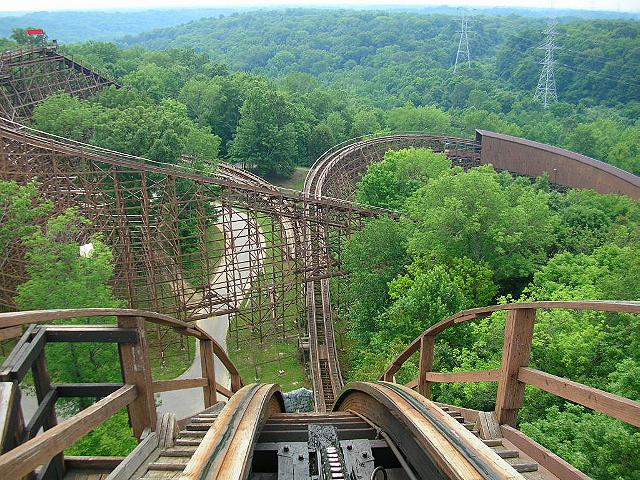 As the train crests the top of this second lift hill, riders are greeted not by a steep drop, but by a leftward arcing hill that sweeps slowly downward, causing the train to accelerate to its highest speeds as it dives furiously towards a makeshift mine shaft. Disorientation runs rampant here, especially during a night ride, and a double-helix, complete with two turns in complete darkness, give this ride a wild finish that leaves riders enthusiastically wanting more. What a rush!
Take a virtual ride on
The Beast
below to see what I'm talking about, and if you ever find yourself in the Greater Cincinnati Area, be sure to head on over to Kings Island and ride my favorite coaster in the world...