There's a new trend in the theme park industry and their ongoing coaster wars that generate mega bucks at the gates, and I'm not sure if I like it, but it does get me excited nonetheless. Whereas in recent years, amusement parks have been saving their big coaster announcements for the dreary, inactive winter months, new ride press releases have been coming out in the summer months, sometimes up to a couple of years in advance of
the newest, baddest roller coaster
. With
Cedar Point's
teasing of a big announcement on August 18th, Tennessee's biggest theme park attraction, Dollywood, has already made a big one.
Lightning Rod
will strike in March 2016.
Lightning Rod is a huge announcement for Dollywood, The new record-breaking coaster stands as the park's largest investment ever, coming in at a cool $22 million. That signifies a seriousness in the parks desire to become one of the beacons of coaster coolness, adding to their already respectable line-up of great roller coasters.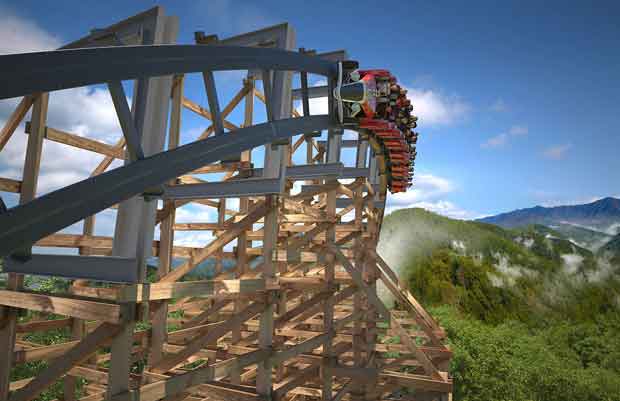 Here's what the theme park has to say about the new Lightning Rod coaster on their
website
:
Themed after a tricked out 1950s-era hot rod, Lightning Rod launches riders from zero to 45 mph more than 20 stories up its lift hill to one of the ride's first airtime moments. At the crest of the hill, riders face twin summit airtime hills before tackling the daring first drop. Lightning Rod races down the 165-foot drop and propels guests along its 3,800-ft. track to a top speed of 73 mph, the fastest speed for a wood coaster in the world.
Located in Dollywood's Jukebox Junction, Lightning Rod rockets riders around its massive wooden structure on an adrenaline-charged lap through the trees in the hills and valleys surrounding Dollywood. During the ride, guests experience nearly 20 seconds of airtime. The coaster train is comprised of 12 cars, carrying two passengers each, for a total of 24 people per train.
Sounds pretty exciting, no? 2016 is already sounding ike it's already going to be a great year! Check out a video simulation of the new ride and stay tuned for more...