If the rest of the summer is going to be like this past weekend, well it's gonna be a great summer! This particular 4th of July Weekend was a great one from start to finish, full of friends new and old, plenty of fun, new memories, and a little bit of discovery to boot. Sandwiched among drinks with friends on Friday night and a 4th of July party on Sunday, I got to experience the Fire Island Pines a bit more extensively not once, but twice, and on Monday I had my first opportunity at experiencing the infamous Invasion of the Pines...a complete blast!
According to legend, 40 years ago, in the summer of 1976, a Cherry Grove man by the name of Teri Warren was denied service at a Pines restaurant called the Botel, simply because he was dressed in drag. Upon hearing of the incident, the freshly crowned Homecoming Queen of the Cherry Grove Arts Project, Thom Hansen, lead a small group of about 9 fellow dragsters over to the Pines to protest. Though the drag queens expected confrontation, they were instead welcomed wholeheartedly and invited to hang for awhile at the Blue Whale by their more affluent neighbors who were amused at this "invasion of drag queens." And thus, the
Invasion of the Pines
was born and has continued and grown ever since.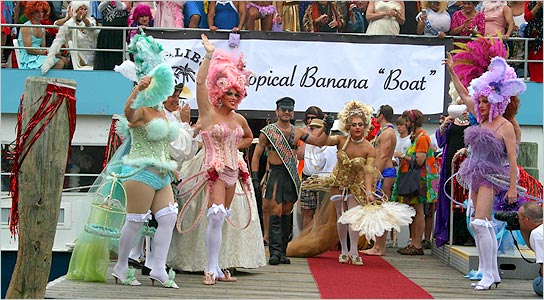 In all of the years I have been going to Fire Island I have never gone to see the Invasion of the Pines. Sure, I'd been invited before, even to ride on the boat, but I never accepted an invitation to go until this year. Since I'd missed the NYC Pride Parade with my pals Manny and Ozzie a week earlier, I couldn't pass up a chance to see what all of the fuss was about. Besides it was the 4th of July and a beautiful day to boot.
Manny, Ozzie, their friend Tara, her friend Jeannette and I made our way out to the Pines on an early 10:00 ferry. The invasion is supposed to start at noon, but that's really when the festivities begin over at the Grove. The main event doesn't really get underway until about an hour later. When we first arrived the crowd was sparse, but not for long. By noon the place was absolutely buzzing with people from all walks of life; straight gawkers, wannabe queens, muscleboys and pretty much everything in between. As the time got closer and closer to the arrival of the boat it was literally standing room only on the dock. Virtually every inch of space was filled, and it was going to be hard to see it all. Finally, around 12:30 or so, the red carpet had been laid and the festivities were about to get underway.
After about a half hour of intros and filler, the time for the invasion had come...
As you can see from the video, there were A LOT of drag queens on that boat, and the crowd loved it. There was something about the spectacle of it all, the outlandish costumes, the performances of God Bless America and other tunes, the dancing and the parading, that made for an exciting celebration. One by one the dragsters exited the boats as they were introduced and then made their way down he red carpet and off into the depths of the Pines community.
At Manny's suggestion, we had earlier purchased passes to the pool area, and once the parade had begun, my friend ushered us all to that very spot, as that was where most of the queens would end up. He was right, and this was where we got to check out some pretty colorful sights...
The Star of the Show
For me, the best part of the entire day was my friend Ricardo, who participated in the invasion as one of his alter-egos Miss Piggy. Now Ricardo is a huge part of the gay community out here on Long Island, seen at virtually every major and minor event, recording all with his photos, and he even hosts a Latin Fusion Dance Party once a month at the Veranda in Bay Shore. He's donned his Piggy outfit once before, but not for such a huge audience.
Piggy was on fire all afternoon, taking 2nd place in a contest of about 85 contestants and he was even mentioned
newnownext/logo's blog post
about the event. Yeah, she was that good and you couldn't hep but smile every time you saw her. God thing for me I got her on video doing her thang so you can see for yourself just how electrifying Piggy was...
All in all it was an awesome day under the sun at the Pines, with good friends and several hundred drag queens. I honestly don't know if I ever really have to do this again, it was soooo crowded....but it was a blast while it lasted!