thoughtfullaw
Happy New Year!
Last night I went to a house party given by one of my newest friends Eric and his partner Rick. Eric's an elementary school teacher and he totally fits that bill. Any-who, he had this neat little New Year's activity set up for his guests last night, which actually was my inspiration for this song.
About an hour or so before midnight, Eric brought out some little pieces of paper and some pens, which he handed out to each of us. He then instructed us to write down two things on it: something you wanted to let go of from the past year, and something you wished for in the year ahead. At first, I thought it was some kind of game where I was going to end up embarrassed (all I'm going to say here is that there's a history with Mr. Eric), so I didn't really pay too much attention. It didn't take me long to realize, though, that this was nothing of the sort, as everyone else was already jotting away, and so I took my paper and my pen, pondered it for a few minutes and wrote my two answers down.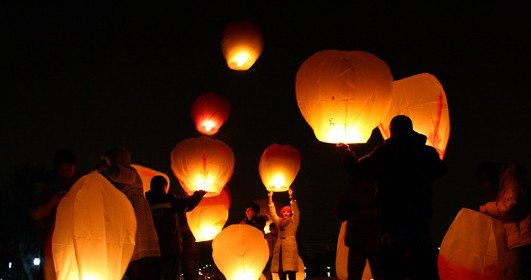 Eric even had given a little incentive to participate in the activity (he's such a teacher, lol!), though the lottery tickets he was giving out were not the reason I participated (and I won, too, seventeen smackaroos on
Lucky 7's
!). Mr. G., Eric's teacher name, lol, then brought out a group of mylar, helium-filled balloons, to which each of us would attach our paper. The idea was to let the balloons go a little before midnight, which he did from his front lawn at 11:45 as all of the guests looked on.
So that was the activity, something simple yet pretty cool! Eric had told us as we were writing them that we could share what we wrote if we liked, and a couple of us did, but to me these types of things should be private, though I did share my first answer (I'm not gonna do that here, though!). So this is how I came to this song...one or two people had asked me what I had wished for in the coming year, and so I woke up this morning with the tag line to this song in my head, lol.
Be careful what you wish for cause you just might get it...
Anyway, cool activity, huh? An just in case Eric is reading this, I want to thank both he and Rick for a marvelous New Year's Eve. They are the consummate hosts, and I look forward to spending more good times with the two of them!
Tweet