Oh, today is going to be one of those rare days where I watch a lot of television. First of all, the Grammys will be on tonight and it looks like it's going to be a great show, but also today marks the first of two hockey games this week to be played in an outdoor venue, and both feature my team, the New York Rangers.
So far this year I have been neglectful of any kind of sport. I remember a time when I used to watch all four of the major sports regularly: Yankees baseball, Jets football, Knicks basketball and Rangers hockey. Hockey has always been my favorite sport. To me it's the only sport that truly is non-stop action and very exciting to watch (most of the time), and the Rangers have given me plenty of excitement over the years.
Well, a few years ago, the NHL started the annual Winter Classic, which has been held on or around every New Year's Day since 2008, and my Rangers played in it once, two years ago, beating the hated Philadelphia Flyers 3-2 at Citizens Bank Park in Philly.
This week, the Rangers will be playing not one, but two outdoor games at Yankee Stadium in the Bronx, and both games are against crosstown rivals. Today's game, which starts in a little over an hour from now will be against the much-hated New Jersey Devils, and then on Wednesday the Blueshirts face off against the NY Islanders, another hated foe.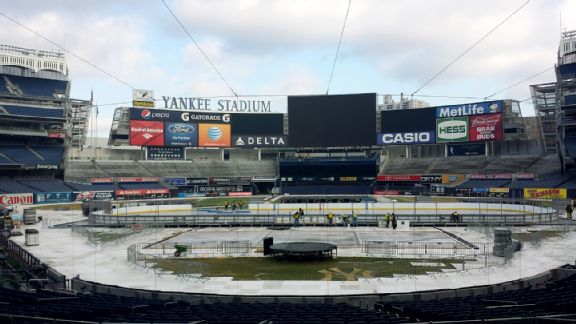 Prepping Yankee Stadium for the big games
So today's and Wednesday's hockey games should be cool to watch, whether you're a big time hockey fan like me or not. The game is being carried on NBC, channel 4 at 12:30, and I will be watching, for sure! Hockey really began as an outdoor sport, so I think these events are awesome. Stay tuned...
Oh, and
Rangers' Dan Girardi, Ryan Callahan, and Devils' Andy Greene and Bryce Salvador