I said that yesterday was going to be a good day for TV, and I was right. The
Grammys
, as predicted, ended up being a pretty memorable show, with several great performances, which I will discuss later on tonight, and yesterday's hockey game was pretty exciting too, especially for Rangers fans.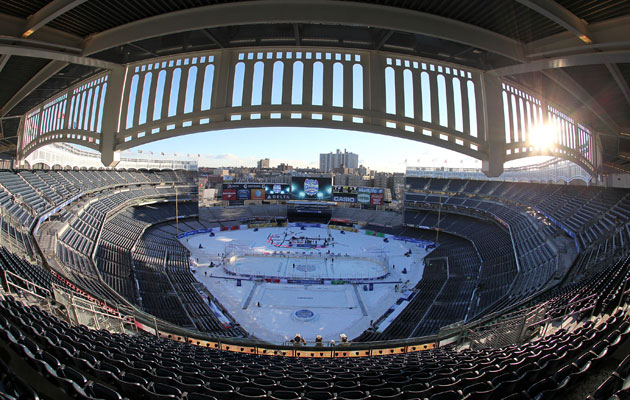 Believe it or not, yesterday's game at
Yankee Stadium
was delayed by the sun, which shed a glare onto the ice that would have interfered with play, but once the puck dropped it was on and the Devils quickly jumped out to a 3-1 lead. The two-goal cushion wasn't enough though to last, as snow started to fall and so did the pucks into the net of the Devils, six straight times to be exact, and the Blueshirts ended up with a rout, 7-3.
Check out the full story at
Sports Illustrated
and
USA Today
, and stay tuned for Part 2 of this outdoor series at Yankee Stadium when the Rangers face off against the Islanders on Wednesday.