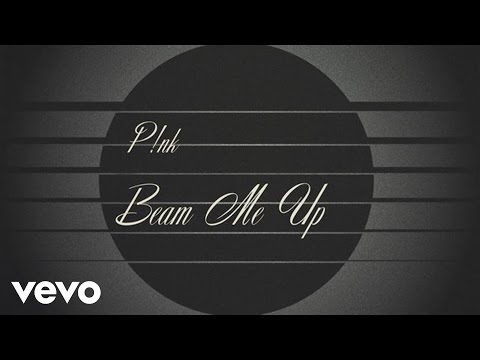 Whenever you first see a track listing for an album, you try to imagine what the song is going to be like, how it's going to sound and what it will be about. The very first time I saw the
track listing
for
The Truth About Love
, the title of this song particularly struck me. I immediately thought,
Star Trek
, but I knew that it couldn't have anything to do with that. For whatever reason, I thought it might be an up tempo song, but I was wrong. In fact, this is one of the most beautiful and tender songs on the album, though I'm still not crazy about the title.
On her website,
P!nk's Page
, the singer says that this one deals with the loss of a loved one, particularly a child. She didn't want to say much more than that, only stating that it was highly personal, but really anyone who's lost someone close to them can relate to this song. Co-written with songwriter Billy Mann, the words to this acoustic song are once again beautifully penned, but at first the listener is not sure where exactly she's going with it...
There's a whole n'other conversation going on
Where nothing breaks and nothing hurts
There's a waltz playing frozen in time
Blades of grass on tiny bare feet
I look at you and you're looking at me
Then the chorus comes, and we get a clearer picture:




Give me a minute, I don't know what I'd say in it

Probably just stare, happy just to be there holding your face

Let me be lighter, tired of being a fighter,

I think, a minutes enough,




Wow, I thought the first time I heard it. What a wonderful concept, huh? I can think of a few people up there I'd like to have just another minute with. Doesn't everybody? And my reaction would probably be just like hers: one of awe and absolute tenderness. Every time I take a listen, I try to imagine someone who's gone and that I hope to see again once this life is over...my dad, Aunt Vi, my nana, Kevin, so many others...




The second verse is another display of this very talented songwriter's prowess, painting a picture of a magnificent place in time through experiential images that transcend all walks of life, taking us to a place we'd all like to be, even just for a moment...




Some black birds soaring in the sky,

Barely a breath like our one last say

Tell me that was you, saying goodbye,

There are times I feel the shiver and cold,

It only happens when I'm on my own,

I tell ya, tell me, I'm not alone




I have no idea where this song will stand in the order of things in comparison to the rest of the tracks on The Truth About Love, but I still love it, and I love the sentimental feelings it conjures up within me whenever I take a listen, as I imagine being beamed up, just for a minute, giving myself pause to just stare into the face of someone I've lost from my physical world, but never from my heart. And then I take away one last glimmer of hope during the final bridge...










Check out the lyric video to Beam Me Up, and c

heck out other

The Truth About Love

track reviews:




Are We All We Are

Blow Me (One Last Kiss)

Try

Just Give Me a Reason

True Love

How Come You're Not Here

Slut Like You

The Truth About Love

Stay tuned for the rest...

And you can purchase the digital album on iTunes or the CD at Amazon here:







Tweet