In just about two hours from now, I will be attending the Long Island Gay and Lesbian Film Festival, a widely regarded, 4-day annual event that takes place at the Cinema Arts Centre in Huntington. The festival is Long Island's premiere showcase for up and coming films of the genre, and several of the best new films with gay and lesbian themes will be showcased starting on opening night tonight and Monday.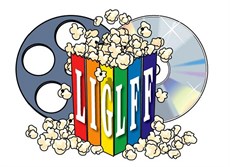 Though I've attended the festival once before with friends, this time is different. Tonight I've been invited as a guest of one of the filmmakers showing his film on this opening night and I couldn't be more excited. Writer/director
J.C. Calciano
, a native Long Islander and longtime veteran of the movie-making business, personally wrote me to invite me to tonight's screening of his newest film,
The Ten Year Plan
.
The premise of the film is one that takes on a uniquely same sex situation, that of two friends, dissatisfied with their love lives, who make a promise to get together if neither finds love in ten years. ..and the clock is ticking. The movie stars Adam Bucci, Michael Adam Hamilton and Moronai Kanekoa and I'm so looking forward to checking it out. Stay tuned...
For more on the Long Island Gay and Lesbian Film Festival, including a listing of films, showtimes and ticket options, check out their website
here
.