About four years ago, I began a series of articles on the
Yahoo Contributor Network
entitled, Amusement Parks of Yesteryear. The series was intended as a look back in the rich history at the many, many parks across the globe that once entertained throngs of people. Some of them, like
Palisades Amusement Park
in New Jersey, have been completely wiped off the map, while others remain, eerily abandoned, and stark, sad reminders of what used to be. Unfortunately after just three articles, I left that series in the dust, never to be resurrected again, until now...
G is for Geauga Lake
I had the privilege of visiting Geauga Lake back in 1995. My ex and I had taken our first pilgrimage to Cedar Point and since it was another amusement park in the area, we took a day to check it out. That was almost 20 years ago, and I don't remember too much, except maybe a couple of their roller coasters, but the place has been through a lot since then and is sadly no longer in existence.
This is the same entrance to the old amusement park with a storied past, both before and today. As with many other things in society, corporations seems to come in and ruin everything eventually, all for the sake of bottom line, and we all end up losing. Read on...
Long before becoming an amusement park, Geauga Lake had been a recreation area located on a beautiful lake in Bainbridge Township and Aurora, in northeastern Ohio. Like many other recreational areas of the day, families came to relax and unwind from the rigors of daily life. The park's original moniker was Picnic Lake, or Giles Pond, until it added its first ride in 1889, a steam powered carousel. This was the beginning of a more than 100 years of an amusement park known as Geauga Lake.
Beginning in 1925, when new management under owner William J. Kuhlman took over, the park started to grow quickly, adding rides such as the Tumble Bug, the Whip, an auto speedway, and its first roller coaster, the Skyrocket (later called the Big Dipper). The park even got national attention the following year when Johnny Weismuller (famous for his roles as Tarzan), set a world 220 yard freestyle swimming record in the park's pool.
The Big Dipper
Over the years, Geauga Lake flourished, adding new rides and becoming a favored destination for entertainment seekers throughout the area, and in 1968 the park underwent a big change in ownership. Funtime Incorporated purchased the amusement park and almost immediately leased 25 acres to Sea World to open a park on the other side of the lake.
The park continued to grow and prosper, reaching its centennial in 1988 and celebrating with Flying Wolf Bobs, a roller coaster modeled after the legendary Bobs from Chicago's Riverview Park. I remember this classic woodie, having ridden it during my trip to Geauga in 1995.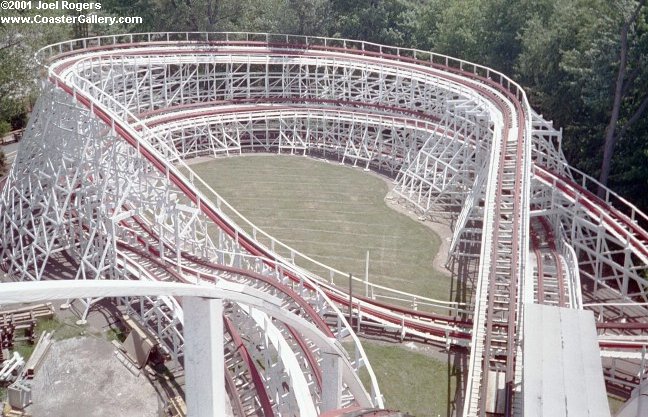 Raging Wolf Bobs
With the centennial celebration and the addition of this coaster, Geauga Lake reached 1 million visitors for the first time in its history.
In 1995, Funtime sold the park to Premier Parks and for awhile there, things were still looking good. The new ownership installed new rides and attractions to enhance the place, but eventually this is where the beginning of the end of Geauga Lake first started to happen. In 1998, Premier purchased the Six Flags name, creating the world's second largest amusement company behind only Disney, and it began to convert some of the newer parks under its ownership to the Six Flags name. In the year 2000, Geauga Lake had become Six Flags Ohio.
Dominator
The transformation of Geauga into a Six Flags park was monumental! Beginning in the year 2000, the park's count of coasters would double, from five to ten, and many other changes were made to transform the traditional amusement park into an out and out Six Flags theme park. They even purchased Sea World Ohio across the lake to instantly enlarge its size. The company once again changed the name to Six Flags World's of Adventure in 2001. All was good until yet another ownership change in 2004.
With financial difficulties and declining attendance, despite all of the new rides and attractions, Six Flags sold the property to Cedar Fair in March of 2004, who purchased the park so late in the year it had difficulties removing all remnants of the Six Flags brand. Within its first year, Cedar Fair adds Wildwater Kingdom, a water park that would become very popular. The amusement park side was once again renamed Geauga Lake.
Looks like it was an awesome ride!
By the year 2006, things began to get dismal quickly for the historic park. In that year, Cedar Fair had purchased five Paramount Parks, including Kennywood and King;s Island, both not too far from Geauga. In that same year, several rides went dark due to various problems and during the winter of 2006/07, X-Flight was dismantled and moved to King's Island near Cincinnati. It was almost the end for Geauga Lake, whose Steel Venom coaster was removed in March of 2007. Cedar Fair shortened the operating season for the park and on September 21st of that year, they announced that the ride side of the park would close for good.
Thunderhawk
Call me a corporate cynic, but doesn't this story sound all too familiar to you? Big corporation comes along and eats the smaller business, gets too big for its britches, suffers financial woes, cuts back and kills the smaller business. Sigh! Oh I could go into a rant here, but that's another story for another time! Anyway, I'm glad I got to visit Geauga Lake at least once in my lifetime. I would have loved to have ridden some of the coasters that came after my visit, but that's near impossible now!
I hope you've enjoyed reading about Geauga Lake and its history. There's something sad knowing how this place having once been such a source of pleasure for many is now vanished...well almost...
"G" Coaster of the Day - Gatekeeper -
Cedar Point, Sandusky, Ohio
Even though I just trashed Cedar Fair (a little), I am featuring a whopper of a coaster that I cannot wait to try. It's the newest in a lineup of classic coasters at Cedar Point, and it looks absolutely amazing. Check out Gatekeeper... Wow, just wow!
* A special thanks goes out to
Geauga Lake: Today and Forever
, the source for most of the information found in this entry and a plethora of even more Geauga Lake stuff, including photos, rides, and more history.
Check out my other entries in the A-Z Blogger's Challenge 2014: