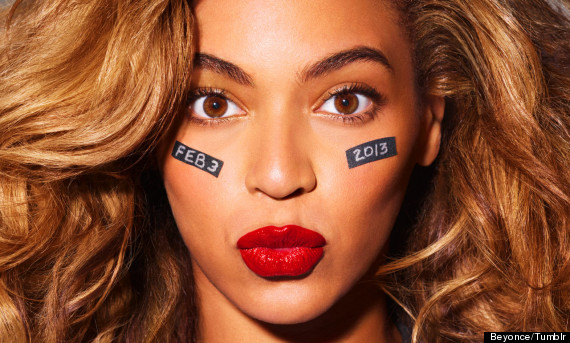 Okay, okay, so of course after last year's Halftime Show by the one and only Madge, how can I not be a little critical of Beyonce's performance tonight. Yes, it was entertaining and yes, it was nice to see Kelly and Michele join Bey onstage for the first time in a long time, but that's pretty much where the good stuff ended for me and most people.
I watched the show from a friend's house where the Halftime Show WAS the Super Bowl for the four of us, and for the most part we all enjoyed it, but like many others, I'm sure, it was a little disappointing. As would be expected, the show was glitzy and glamorous, and the special effects were amazing. Bey kicked off the set with an acapella version of her
4
song,
Love On Top
, before kicking in the high energy with the frenzied
Crazy In Love
.
Next came the crescendoing opening to another
4
song,
End of Time
. For me, this was a great choice, but even the folks I was watching it with weren't too familiar with the pleasant, upbeat tune because it was never much of a hit outside the circle of Beyonce fans. Some very cool special effects followed as Sean Paul's voice echoed through the stadium doing his part in
Baby Boy
. The singer's image became multiplied five-fold as she got down and dirty to this former smash.
Kelly, can you handle this
Michelle, can you handle this...
As expected, Kelly Rowland and Michelle Williams materialized onstage as the music segued to the opening of
Bootylicious,
and
the three girls seemed to revert right back to Destiny's Child 2001 without missing a beat. Kelly and Michelle remained onstage to help Bey out with her biggest smash,
Single Ladies
, before fading off stage as the star of the evening segued into her moving Halo to finish off the set.
Watching it a second time gave me a better appreciation for the performance, though the critique I heard within my little circle still rings true: that the choices of song from both her solo and group catalog could've been a smidgen better. I would've loved to have heard
Get Me Bodied
or
Run the World (Girls)
, and
Jumpin Jumpin
, for sure. Ah well, bottom line it was enjoyable, great choreography and lots of energy, and there's no doubt that Ms. B did sing!
Tweet