Lily Rose Beatrice Cooper is better known by her stage name, Lily Allen. The British singer first came onto my radar about five or six years ago, not long after her debut album, Alright Still, was released. I remember seeing posters advertising the record in stores and at first I thought to myself, "who is this cheeky-looking girl?" Then her first single, the pleasant but irresistibly sarcastic
Smile
came out and my interest was piqued.
That first album was an immediate favorite of mine. The lyrics and the music are not your typical combination of hit pop music, and unless you're listening carefully to the words, you might be surprised once you pay attention to the lyrics. The songs might be classified as ska-ish, and I've even heard the term rocksteady, too, but either way the manner in which Lily tells her stories is nothing but naughty fun.
Some of my favorite songs off that first album include the amusingly ironic
LDN
,
the brash
Not Big,
the hilarious and expletive-filled
Friday Night, Alfie,
with a little older sister to younger brother reprimand
,
and this one, a fun, quirky, excuse-laden song about avoiding a dude trying to hit on ya. Check out a live version of
Knock Me Out
:
Lily's second album, It's Not Me, It's You, is not as good as the first, but it's got a few good ones on it, too. Of course, the most popular song off that one was a big old
F**k You
sendoff to George Bush when he left office (no wonder I love her!). Like many of her other songs, this one's sugary sounding, musically, but downright dirty lyrically.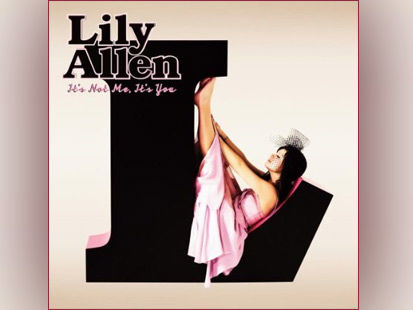 Two other such songs off of It's Not Me, It's You include the tangoesque Never Gonna Happen, and my personal favorite off the record, the countryish, dirty Not Fair:
Other good stuff on this one include the dramatic opener Everyone's At It, the tender and sad 22, the serious, lead single The Fear and another of my personal favorites, the vintage sound of He Wasn't There:
Unfortunately for us, Lily Allen has not made any new music since starting a family a couple of years ago. She did do a guest vocal on one of my favorite P!nk songs,
True Love
, but other than that, nothing, and that's too bad because I really really like her!
Tweet